A wine and music experience
In one of the oldest properties in the Médoc, between rows of vines and monumental sculptures, the owner, Philippe Raoux, had the idea of turning the history of this exceptional property into an immersive story.
"Songs of Arsac" is a unique oenomusical visit. For the first time in the Bordeaux vineyards, we have created a true artistic and sensory experience in the form of an audiovisual show.
The music composed by François and Muriel Gaulon in spoken word offers visitors the opportunity to discover the history of the estate since its purchase in 1986, its transformation with the replanting of the vineyard and the installation of its works of art, as well as the making of its fine wines.
but also the making of its exceptional wines. The sound and light show in the vat room and the barrel cellar is designed by Pierre Fossey. It transports the visitor into the history of the estate between archive images and works of art.
The visit ends with a tasting of Château d'Arsac classified as Cru Bourgeois Exceptionnel in the Margaux appellation in the barrel cellar.
Are you ready to succumb to this unique musical adventure?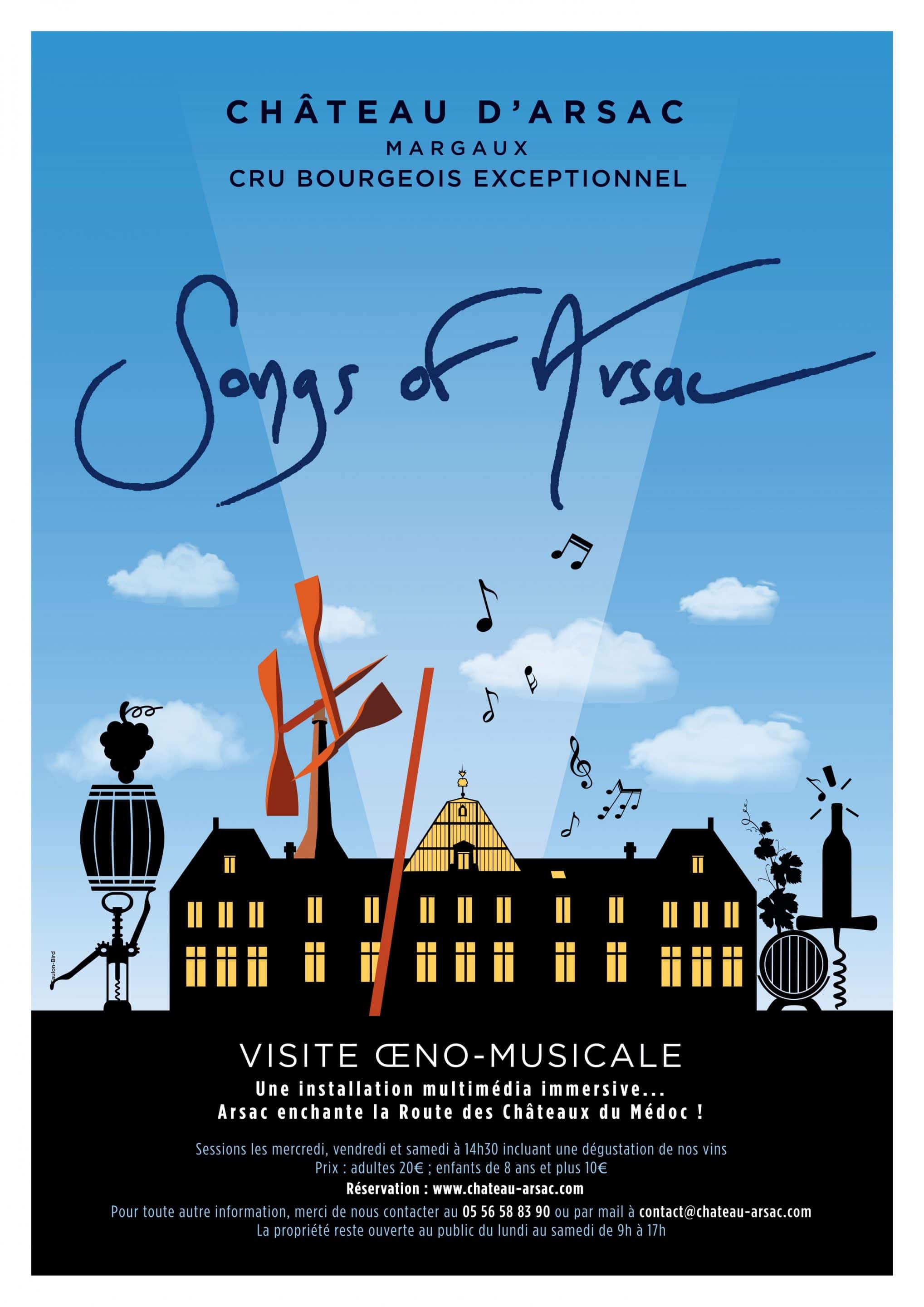 "Songs of Arsac"
Opening on April 1st 2021
Eleven musical "scenes" of 45 minutes
(a wine and music experience, immersive multimedia installation)
followed by a wine tasting (1h/1h15 in total).
Sessions on Wednesdays, Fridays and Saturdays at 2.30pm in groups of 5 people in accordance with current health regulations.
By booking only
Reservations are available from 1st April 2021.
Included in the tour:
the 45-minute wine and musique show
tasting of Château d'Arsac, Margaux appellation or tasting of apple juice from the estate
a booklet describing the musics
Price: 20 € / adult
10 € / child (from 8 to 17 years old included)