Even if all the estate's artworks are collectively named the "The Sculpture Garden", this title is not really fitting since such works are actually an integral part of Château d'Arsac. Here, the vines do not coexist with these artworks, perceived as an open-air modern art gallery, but rather the two form a single, collective entity: Château d'Arsac.
We hold this nuance dear to our hearts, since our vineyards have expanded alongside the number of artworks.
The reason for this is simple: the vines fund the artwork.
Without the vines, there would be no artwork! Without art, there would be no image!
Art makes the estate what it is: through these artworks, the château's history is inscribed in its land, which serves as a medium, like a book is to writing. Each acquisition is inspired by an event or idea that runs through the estate. For example, in 2002, the artist Jean-Michel Folon, paid us a visit. He stayed overnight at the estate and after dinner, he drew a picture in our visitors' book which we reproduced in a giant 10 x 4 m mural in our barrel cellar.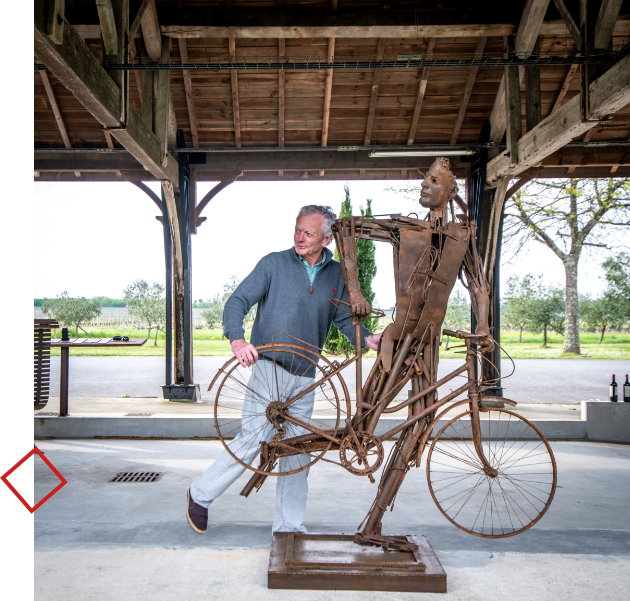 Similarly, the purchase of French sculptor Bernard Pagès' "La Déjetée", in 1995, marked the year our vineyards were promoted to the Margaux appellation. As a result, Arsac found itself on a new upward trajectory, which this work perfectly illustrates.
The annual purchase of an artwork contributes to the cohesion of the estate. It creates a sense of belonging in each and every person, from the cellar worker to the tractor driver. The arrival of the artwork and its installation is a joyful event, celebrated by everyone at the estate. Finally, this happy marriage between wine and art constitutes a point of interest both in the village of Arsac and for local schools, which often visit us and with whom we have forged strong partnerships.
Built in 1990 on the foundations of the historic barrel cellar, it is an extension of the blue cellar – the vat room – renovated the same year. Made of concrete, bricks and treated wood, it stands out in what is a very traditional region. The cellar can store up to 2,000 barrels, on two levels atop a bed of gravel recalling the glory of our terroir. It is equipped with an air conditioning system which also regulates humidity levels. Only our wines in the Margaux appellation are kept there.