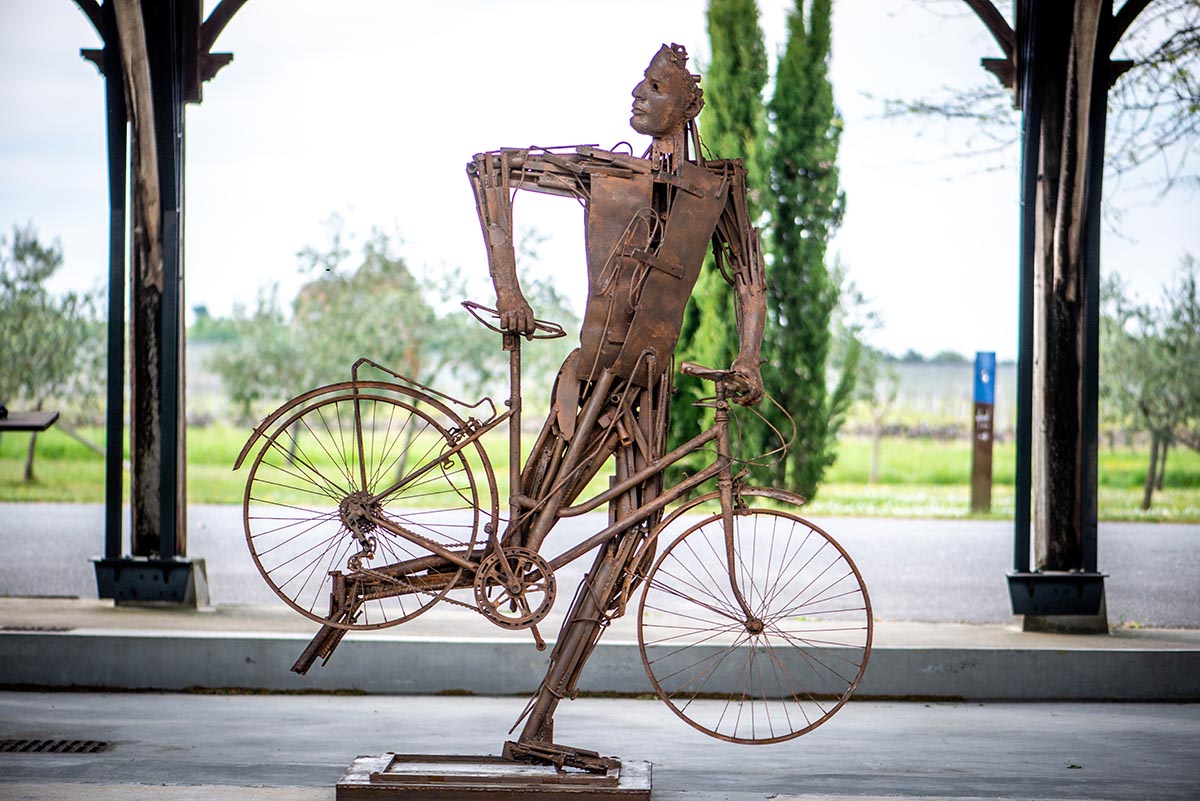 Arsac, April 2020 – The Bordeaux wine routes reveal a rich heritage, which has always combined tradition and innovation.
While Château d'Arsac is one of the oldest estates in the Médoc and boasts a near-1,000 year-old turbulent history, it is nevertheless home to a remarkable modern art collection, inspired by the genuine passion of estate owner, Philippe Raoux.
A classified growth in the Margaux and Haut-Médoc appellations, Château d'Arsac is also open to artistic creation. Every year since 1992, the estate has acquired an artwork signed by a major contemporary artist, including Bernard Pagès, Claude Viallat, Bernar Venet, Pierre Buraglio, Jean-Michel Folon, Niki de Saint Phalle, Mark di Suvero and César, to name a few.
This year, Philippe Raoux will expand his collection with "Le Voleur de Bicyclette" (The Bicycle Thief), created by artist and founder Romain Barelier. This sculpture will welcome visitors to the estate and mark the start of a surprising walking trail through the Sculpture Garden. The Philippe Raoux collection in Arsac is the largest private contemporary sculpture collection in Southwest France. The 31 emblematic, and often monumental, artworks are installed in the Château grounds, and open to visitors by appointment.
"Le Voleur de Bicyclette" can be traced back to 2002, when Romain Barelier was surprised to see so many objects piled up at the bottom of the dried-up Canal Saint-Martin. He picked up a bicycle, perhaps stolen from its owner, and decided to associate it with a character made out of scrap metal: not the cyclist but rather the bicycle thief. Born in Rome and a keen Italian film enthusiast, Romain Barelier drew a parallel between his creation and a film by Vittorio de Sica: Bicycle Thieves. This charming story captivated Philippe Raoux and convinced him to add this artwork to his collection, thus offering a prestigious end of the race for this little bike.
When discovering Château d'Arsac, visitors immerse themselves in a world where history, art, and winemaking intertwine. They may book either directly at the estate (by phone or online at www.chateau-arsac.com), or opt for a one-hour tour in partnership with the Bordeaux Tourist Office, which includes a visit to the Blue Cellar and Sculpture Garden, as well as a tasting of three wines. Available in French and English, the guided tour also offers visitors an overview of the history of the estate and how its wines are made, as well as the stories behind the artworks dotted around the vineyards.